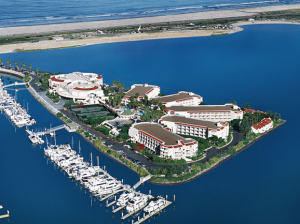 Taking a getaway to San Diego doesn't have to mean, staying in San Diego. Loews Coronado Bay Resort is just 20 minutes south of sunny San Diego, and is worth every minute.
Loews considers this property as "resort," rather than a hotel, which is perfectly fine with me. Being coined a resort means it's an exclusive hotel (er, resort) located in a premier area.
The Goods
This hotel (we like that word better) does not disappoint. While the parking fees and food may be a bit pricey, it's worth every penny. The hotel is walking distance to the beach, and has more water activities than you can shake a stick at.
How Much?
You might think such a nice hotel would not be, eh, cost efficient. Think again! We were shocked when we found this hotel for just $180/night! That is comparable to most San Diego hotels, and far less than most of its beach-front properties.
What did you think of this hotel? Let us know in the comments below!